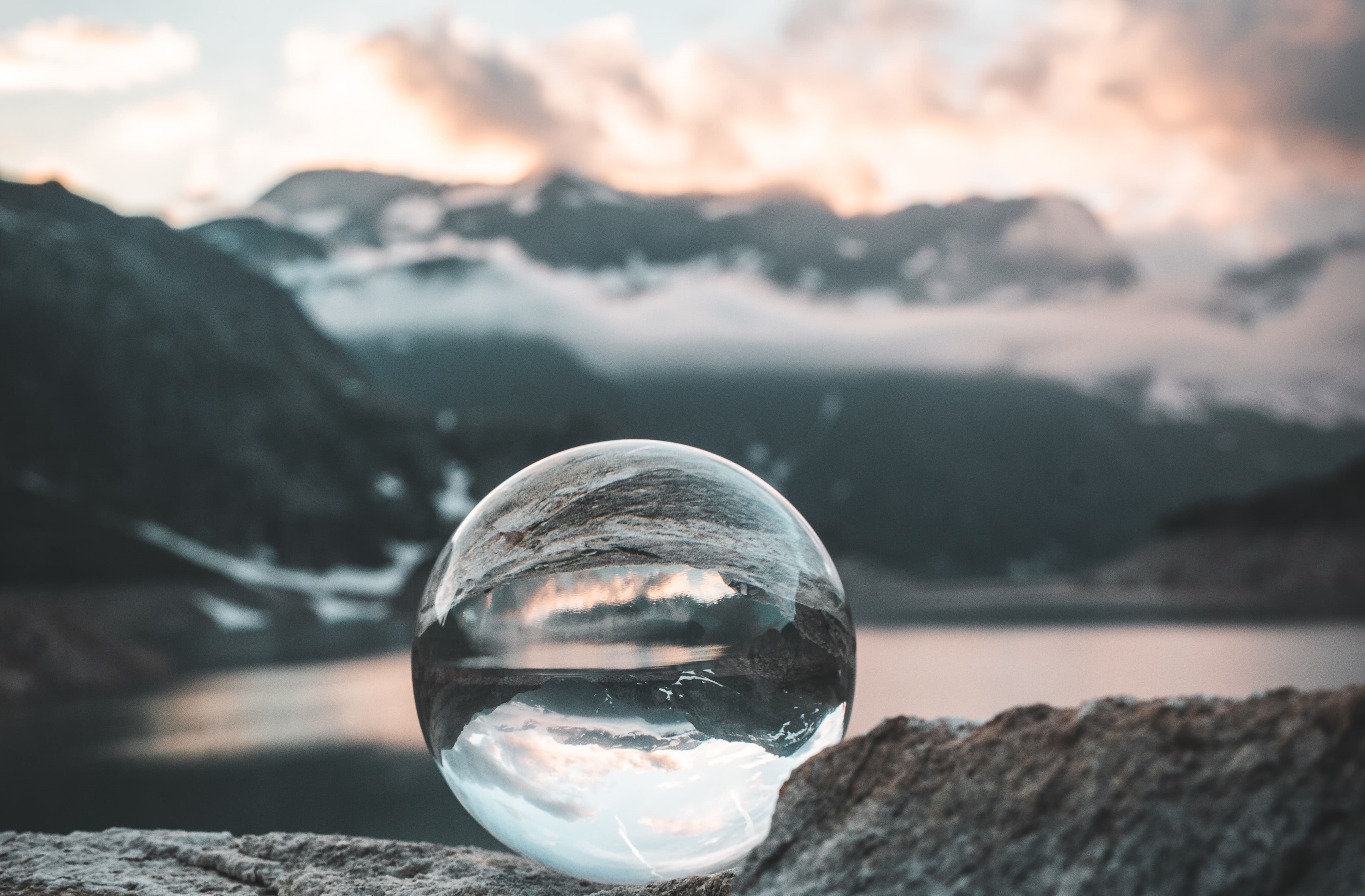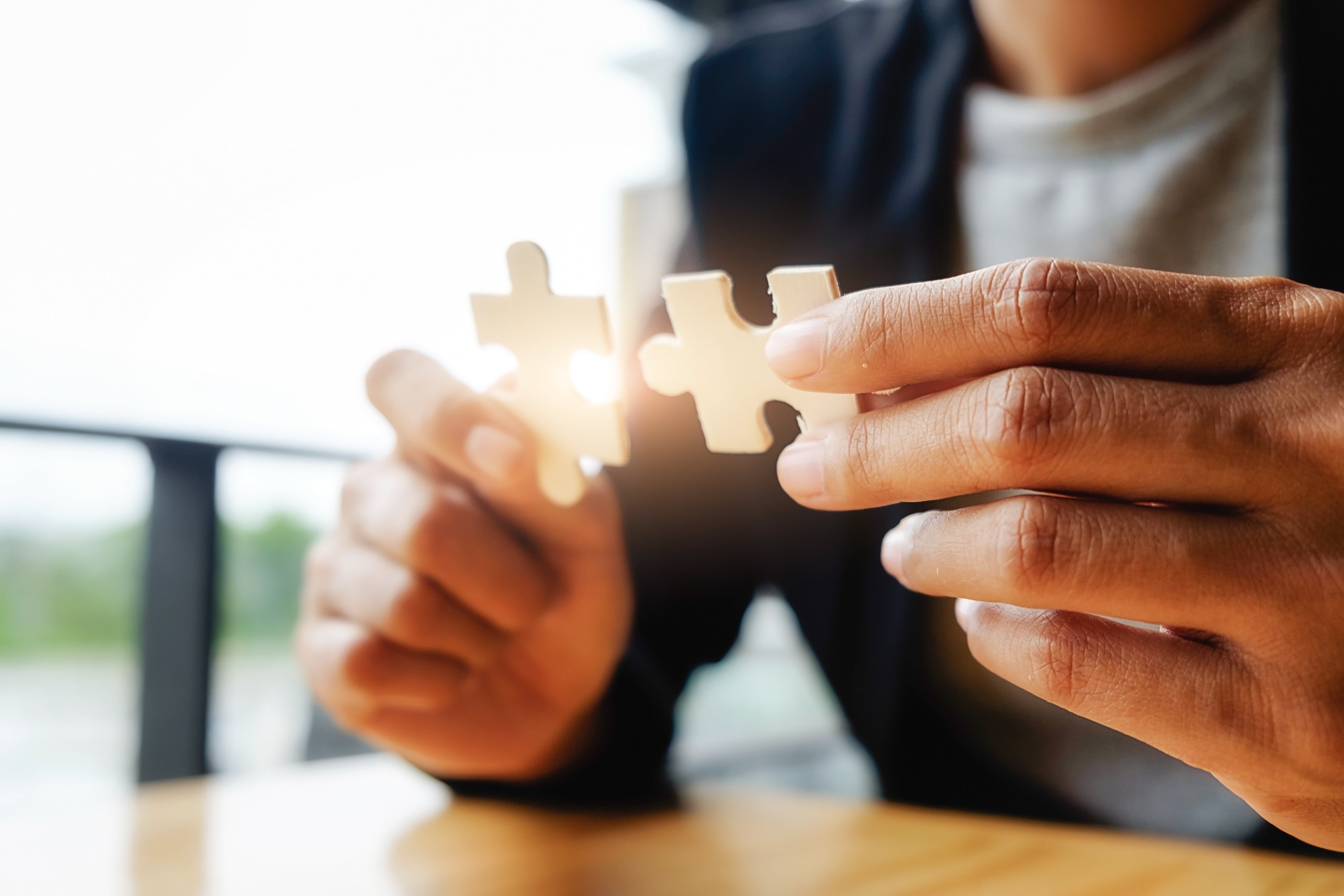 It's not the load we lift… It's the principle we follow.
Crown Lifters Limited is the result of collaboration between years of dedicated hard work, perseverance, knowledge, and a handover from one generation to another. Established in the year 1984 by Shri Kamruddin V Jaria, Crown Lifters Limited is a professional crane hiring company that finds its presence within India's finest and large (blue chip) companies. With commitment and consistency in reliable services, we have earned a trusted place in our clients' hearts. It is this commitment that has helped us in being listed on India's National Stock Exchange. It is a milestone we have achieved because of the continuous support of our stakeholders.
Replete with the latest in technology, manpower and some of the most state-of-the-art processes, Crown Lifters today is expanding rapidly in every sense. With a young and dynamic senior management team that understands the requirements of the business they are in, Crown Lifters has constantly grown and achieved many milestones and is constantly gearing itself to take on newer and higher challenges.
Today, the company with its sound management practices can boast of a great communion between man and machine, delivering value and delighting clients with an unending quest for excellence.
Headquartered in Mumbai (MH), India, the company is well prepared and equipped with resources and operational capabilities to serve the ever growing need of the market.
It's not the load we lift… It's the vision we have.
Mission
To provide the widest and technologically modernized range of construction equipments to the Infrastructure Industry ably supported by trained experts and a process-oriented approach. We will continue to value our relationships and remain true and fair with all our stakeholders.
Vision
To become India's most preferred supplier of construction equipments servicing all industrial sectors by offering competitive technological edge.
It's not the load we lift… It's the experience we have.
Crown Lifters Limited celebrates 40 years of seniority in an extremely competitive market where it is difficult to survive for a day without professionalism.
Today's company is an outcome of amalgamation of years of dedication, hard work and experience that has been handed down from one generation to another. The deeply ingrained business ethics has helped the company achieve many milestones in the last 3 decades.
We believe in having an extremely professional approach and offering some of the most (sophisticated) equipments to execute the most challenging of engineering tasks. Our team is efficient and upholds the corporate values of discipline, efficiency and effectiveness.

We intend to ease the most difficult task by virtue of our management style, resourcefulness and cooperative attitude. Our on-ground team engages intellectually with the team of client's engineers to understand the entire lifting operation and offer valuable suggestions drawing from their expertise and resourcefulness. We work diligently and have a wide range of equipments to cater to every need and to reach the client's sensitivity and centricity.
We implement new initiatives adapting to change and keep ourselves updated and abreast with the latest technology.
It's not the load we lift… It's the management we have.
Our top management are visionaries who emphasize on core strengths and policies that focus on technology and great deliverance. It envisions the future, leads by example and like a leader walks behind the people and gives them opportunities to move forward towards an unending journey in the quest of excellence.
With a passion to set high standards of service, the management has always taken all measures to scale up as and when required only to deliver the best. While we upgrade our technology, we have never missed the fact that we are only as good as our team. We regularly upgrade our team's skill sets instilling in them the flair and passion to set higher goals in their personal and professional life as well.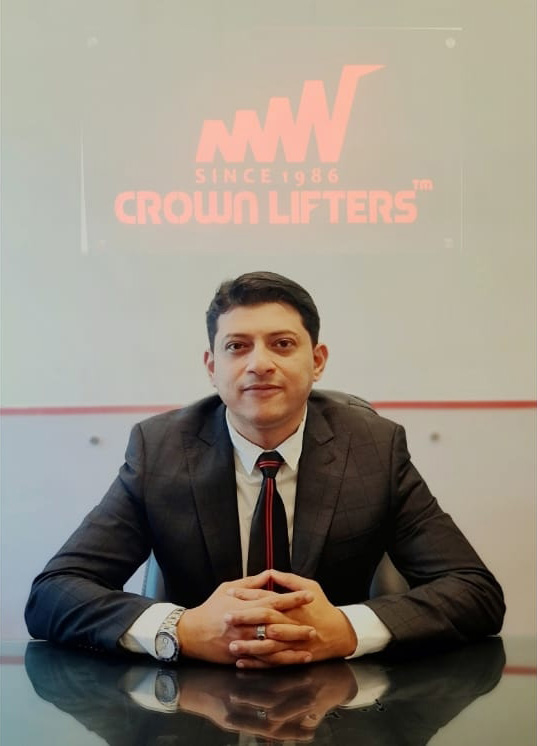 Mr Karim K Jaria started his career with Crown Lifters in the year 1992 and has gained vast experience in the field of construction equipment rental and trade business..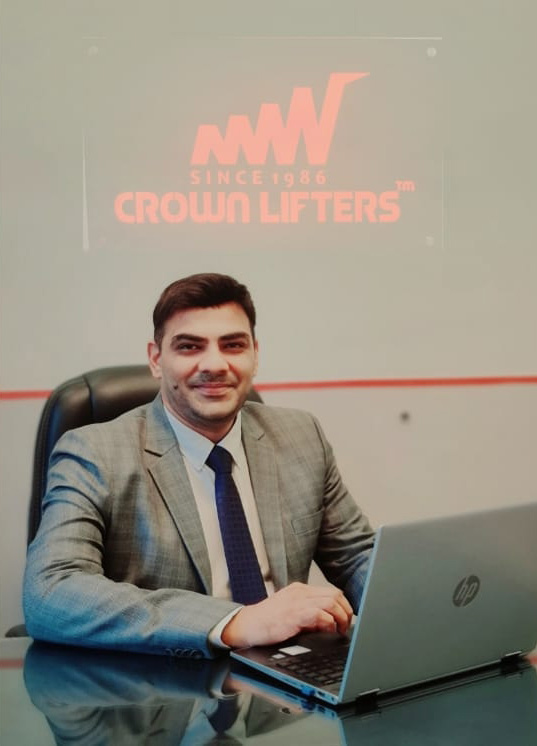 Mr Nizar N Rajwani started his career with Crown Lifters in the year 2002 and has played an important role in the growth of the company.
It's not the load we lift… It's the legacy we follow.
Five bars of progressive growth are interconnected with each other, providing support & strength towards the forward directional arrow, which means a lot in itself.
The five bars stand for five pillars, five brothers who have  complimented each other in the organic growth of the company. The interweaving connecting supportive bars are the second generation, who have supported and also been catalytic in the overall success of the Company.

Increasing right-hand tilted bars denotes growth Y-O-Y.  The bars also denote the arms of various cranes, as if they are parked in our yard in sequence, ready for deployment. The different size of arms of cranes also depicts the range of cranes available bearing lighter to medium to heavy capacity. The point on the rightmost arm denotes an edge above where we remain competitive, sharp & ready to eliminate competition through our professional management and best practices.
The overall pattern also depicts flexibility and movement towards the growth curve, building relationships that are here to stay. The color symbolizes youth and energy, a never say die spirit that has evolved from the years of being in the business.
It's not the load we lift… It's the Clients we service.
Over these past three decades, we have had the honour of working with giants of the engineering and construction industry. Crown Lifters has since then become their preferred supplier of equipments and has gained a faithful clientele.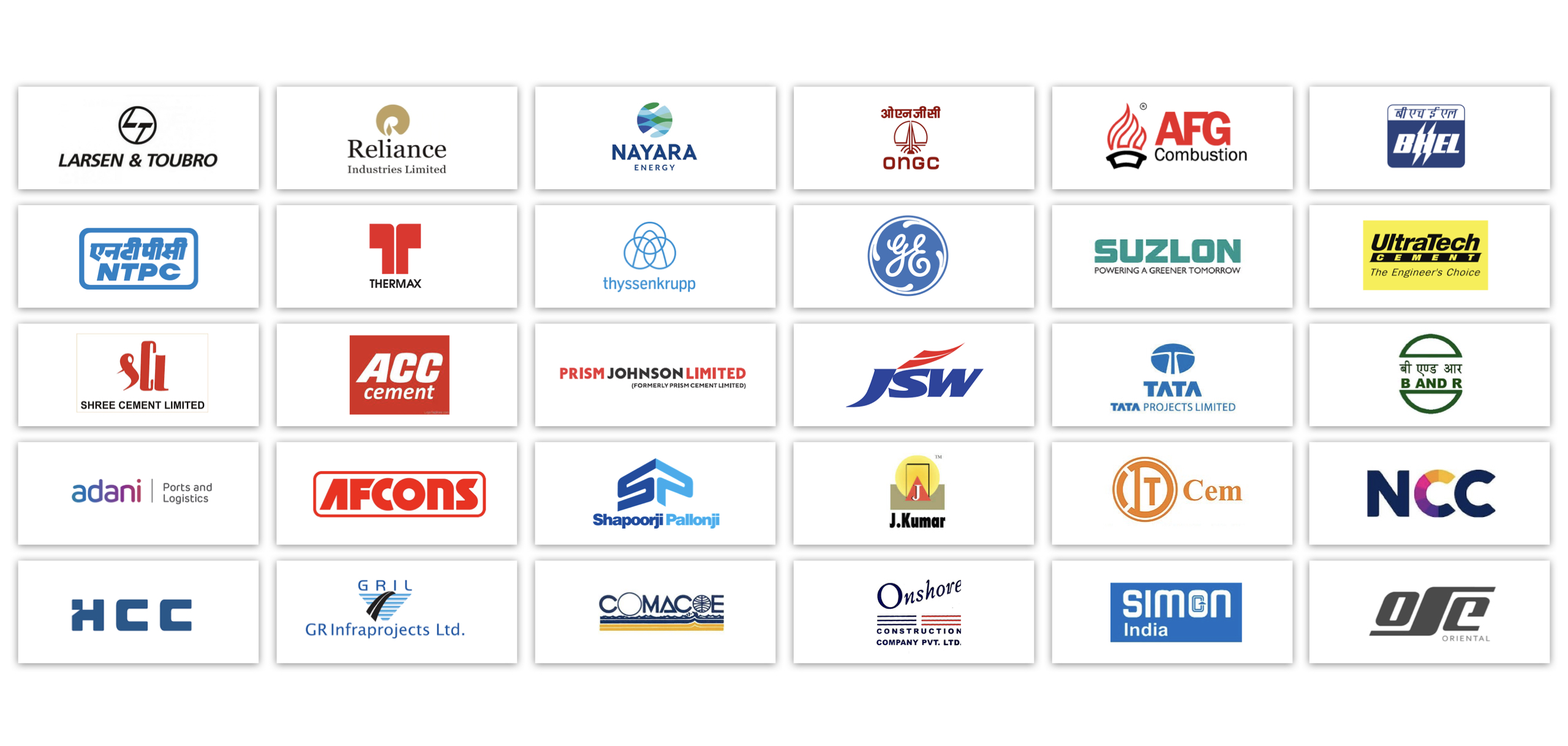 It's not the load we lift… It's the sectors we serve.
It has been our unswerving mission to cater to a variety of industries and engineering applications, which help us constantly challenge ourselves to stand up to the needs of the infrastructure industry.
Refineries
Oil & Gas
Cement & Steel
Wind Energy
Thermal & Nuclear Power
Fabrication
Airports
Metros & Railways
Water & Gas Pipelines
Ports & Jetties
Pile Driving & Caging
Dredging